Qualogy once again ISO 9001 certified
Published on:
Author:

Renee Kroon
Category: News
Good news: Qualogy received a new ISO 9001 certificate for 2017. ISO 9001 is the leading international quality mark. Becoming newly certified means our products and services meet the strict requirements imposed by our clients, by applicable legislation and by the norms and standards of our own organization. This achievement didn't come easily.
In a nutshell, ISO 9001 certification requires companies to do the following:
Say what you do
Do what you say
Then prove it!
In order to become newly certified, Qualogy had to undergo a certification audit performed by an independent party. Last month, Veritas visited our office in Rijswijk to conduct an in-depth investigation of our organization.
Laying the foundation: collecting information
We had lots of work to do in the weeks leading up to the audit. The first step was to collect and analyze information that would allow Veritas to draft an annual quality report containing their findings and the corresponding measures. Below are some examples of the type of information we had to collect:
Customer satisfaction survey
We conduct a customer satisfaction survey every three years among ten of our biggest clients.

Processes
This contains all of the assessments by our internal employees. We used these to determine any common threads or areas of improvement.

Credit notes
We determined the percentage of invoices consisting of credit notes and the reason for these notes. This is an important learning process for us.

Supplier performance
We assessed the performance of our suppliers with the help of an assessment form to determine how reliable a supplier is, among other things.

Education and experience survey
We used the HR application Taleo Business Edition to determine whether our employees meet the necessary training and experience requirements.

Employee evaluation survey among customers
We used this form to determine how satisfied our customers are with the performance of our employees.

Improvements form
This form was used to determine areas of improvement. The forms were used to submit ideas, complaints, deviations and improvement proposals that would help us implement corrective or preventative measures.
At Qualogy we expect all colleagues to work according to the relevant procedures. Processing information correctly and following the procedures and protocols keeps us organized and enhances the quality of our tasks and the results we achieve on behalf of our clients.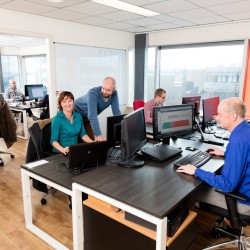 The audit
During the audit, our entire work process was discussed and analyzed in detail. Veritas wanted to determine whether we do what we claim we do. The auditor carried out random checks to determine whether we indeed work according to fixed standards. We were asked to select a random employee per component so the process could be examined from A to Z.
Maintaining our ISO certification
Our goal is to maintain our ISO certification in the future as well. Starting next year, we plan to transition to ISO 2001-2015, the successor to the current norm. We will be supported by an external agency that specializes in this type of certification. They will help us take the necessary steps to ensure our clients receive the same high-quality services and products they've come to expect.