PerformNOW
Increased productivity, greater employee involvement, and satisfied customers. Achieve these organizational goals faster and more effectively with an HR application that perfectly supports your business processes: PerformNOW, developed by Qualogy Caribbean.
Entering and copying data, sending it to colleagues, verifying its accuracy, making follow-up phone calls... HR documentation is extremely time consuming. But how do you make this process faster and more efficient? Discover PerformNOW: the HR application specifically geared towards the Caribbean market.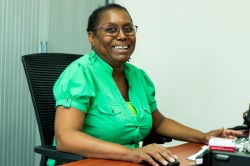 Three modules
The application consists of three modules:
HRNOW: easily register work and leave hours
PayrollNOW: automatically process salaries
ScheduleNOW: create work schedules and plans
You can choose the modules you want, which means you only pay for what you need.
Self-service
The application also includes a self-service option. With this option, employees can log in themselves, request their current leave balance, and submit new leave requests. Naturally, employees are only authorized to view their own information.
Keep an overview and save time
PerformNOW is a secure and user-friendly tool that will help you save considerable time and money, as it's easy to enter and process bulk changes. It's also possible to review past data and changes and draft dynamic reports.
Flexibility
PerformNOW is also available as a mobile app and can be linked to your existing punch clock, active directory, or other applications.
If you have specific needs or wishes, Qualogy Caribbean would be happy to discuss the customization options with you.
Free initial consultation
Would you like to know how PerformNOW can benefit your organization? We would be happy to schedule an introductory meeting to discuss your options and help you get things moving in the right direction. You can contact Shailish Rambaran Mishre via (00) 597 450 972 or srambaranmishre@qualogy.com.
More information
Discover everything about PerformNOW and the benefits for your organization in our flyer.
Download the flyer
* You will soon be able to use PerformNOW in the cloud. This means you can use PerformNOW whenever and wherever you want.