Integrating, streamlining and accelerating business processes
Nice to meet you, we are Qualogy Caribbean
Already 10 years (since 2007) Qualogy Caribbean is your one stop shop for integrating, streamlining and accelerating complex business processes. From advice, development and testing to implementation, hosting, training and after-completion monitoring and maintenance.
International expertise, exceptional IT services
Qualogy was founded in The Netherlands in 1998. Nowadays we realize high-quality Oracle, Java and HTML5 IT solutions for a growing number of businesses and governments worldwide.
With 260 colleagues and temporary staff members in the Caribbean and Europe we have enough brainpower to make a success of any challenge. One of the guiding principles behind our service is collaborating with experienced professionals.
New and innovative developments
As a service provider, we want to stay ahead of the game. That's why we invest in knowledge about new technologies like Data Science. We then link this expertise to the IT of organizations.
Providing exceptional IT services through our team of engineers and consultants, our objective is to translate new and innovative developments into practical applications that benefit our clients.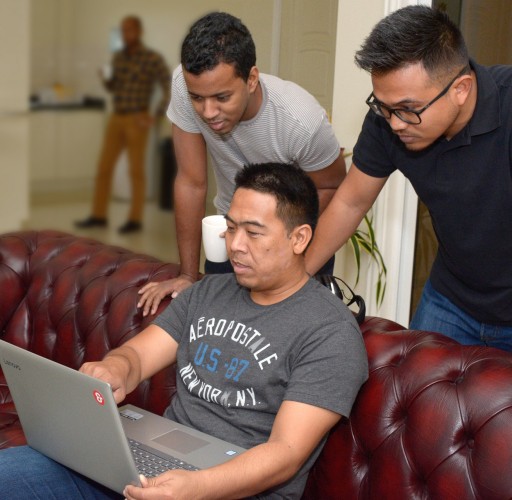 Paul Mehilal: CEO Qualogy Holding
Paul Mehilal completed his Computer Science studies in 1992 and started Qualogy in 1997. He is every inch an entrepreneur; soon the company grew from 3 to over 150 employees. Many years of Oracle consultancy and project management experience have taught him what his consultants and his customers want.
"Qualogy aims to serve its customers with high quality solutions, implemented by skilled consultants with up to date knowledge on the latest technological developments."
IT in the Caribbean
After a preliminary investigation in 2002, Mehilal decides to start the Caribbean branch in 2007. The goal is twofold; on the one hand to further professionalize IT services in his native country, and on the other hand to provide high-quality employment to motivated graduates in Paramaribo.
"Supported by our solid knowledge and experience backbone in The Netherlands, we can lift ICT in the Caribbean to a higher level in a relatively short time."
We are Scrum and Agile
The Agile work method has become standard practice in the IT sector. Qualogy has used Scrum, the most common Agile framework, for nearly ten years now.
This means working with multidisciplinary, self-managing teams that collaborate on projects and involve everyone in the planning, risk assessment, task distribution and implementation phases.
The Scrum method prioritizes the most important project components. How much time, effort and expertise the project requires can be accurately determined in advance. Progress is discussed daily within the team and periodically with the client to ensure an accurate progress diagnosis and to prevent delays.
Scrum allows for continuous knowledge exchange, excellent project quality and a balanced schedule. We'd love to tell you more about it!